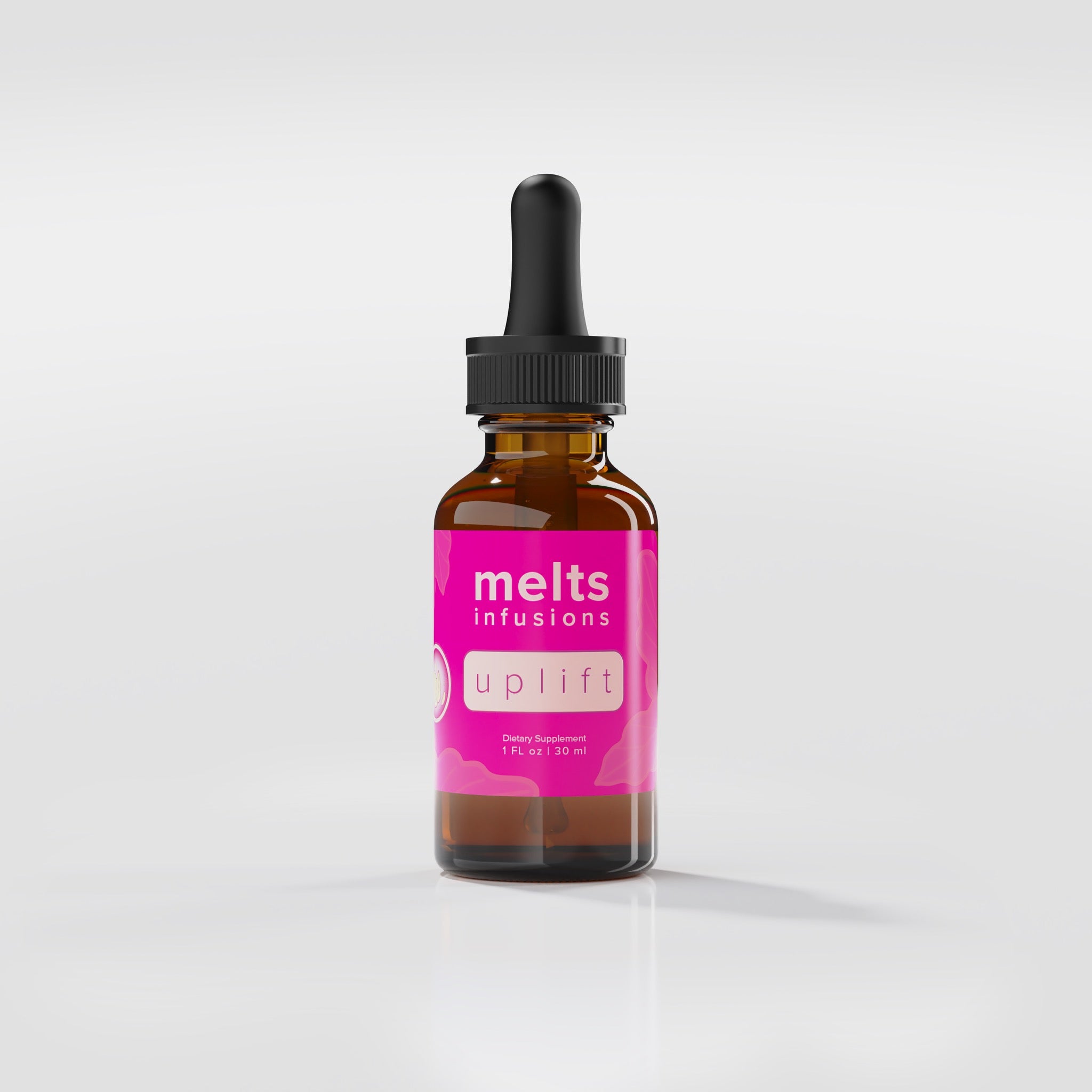 Description
An invigorating and uplifting infusion of adaptogens and nootropic herbs, this proprietary blend is designed to provide an array of benefits. Traditionally used to increase energy and enhance mood, while decreasing the symptoms associated with fatigue. These nootropic plants support cognitive function by enhancing mental clarity and focus as well as combating brain fog. Many swear by this product to provide a natural, stimulating boost to start their day.

These herbal extracts are to be taken orally, directly under the tongue, or mixed into a drink or smoothie. They are made by macerating dried medicinal herbs in a carrier (MCT oil) to draw out the active medicinal constituents of the herb in the liquid.
Used by athletes - such as Landon Collins and Winston Rose from the NFL - to enhance focus and energy, both on and off the field.
Our products are manufactured by Cavendish Nutrition, a Good Manufacturing Practice (cGMP) partner.
DISCLAIMER: It is important to consult with a qualified health care professional before taking any herbal supplements purchased online, particularly if you are pregnant, nursing or on any medications. The use of this herbal supplement should not be viewed as an alternative to obtaining medical advice from a certified specialist. These statements have not been reviewed by the Food and Drug Administration.
How to use
Mix it in with your favourite smoothies or drinks, or take it alone by dropping the serving under your tongue and swallowing easily. Take 1 to 2 servings per day or as needed.

Serving Size
0.5ml (half a dropper)
Ingredients
100% Pure MCT Oil, Proprietary Herbal Blend (Eleuthero, Schisandra, Holy Basil, Lemon Balm, Damiana, Nettle and Motherwort)
Inside the bottle
30 ml (60 servings or a 30 day supply)
What are adaptogens?
An adaptogen is a natural substance (herb, mushroom, or root) that helps the body adapt and build a resistance to various forms of stress (emotional, physical, and environmental). In order for a substance to be classified as an 'adaptogen' three qualifications must be met. These botanical treasures must be safe and non-toxic, produce a non-specific response in the body thereby enhancing resistance to stress, and have a normalizing impact on the body returning the stressed physiological state to a normalized state.
What are nootropics?
Nootropics are drugs, supplements, and herbal substances that may enhance cognitive function, particularly executive functions. Particularly they are known to affect memory, creativity, and/or motivation in healthy individuals.
Hear what our costumer have to say
Shipping
How Long Does Shipping Take?
You can check the shipping time for a specific product on the page, entering the product. Once you have put the products you want to buy in your basket and have selected the delivery country, you will see the estimated shipping time in it.

If the delivery period, beyond our control, cannot be met, because our supplier does not fulfill its commitment for excellent reasons, we can cancel the shipment.

We always advise tracking the shipment so that the customer can be informed at all times of its status.
At Melts Infusions, the shipping cost is not included in the product price. We have an urgent service that delivers your order in 1-4 working days as long as this order is placed.
It is possible that due to circumstances beyond Melts Infusions, there may be delays in the delivery of orders. To solve these types of incidents, you can contact us.
Bulky Parcel Shipping
The delivery of bulky goods, which are sent through a courier company, will be deposited in the entrance area of ​​the address provided. If a delivery to the home's door is desired, there is the possibility of doing it, with the charge of an additional supplement.

The rate will change for orders containing refrigerated products. Shipping will have a fixed cost as long as the order contains at least one refrigerated product. Its increase is due to the special transport, which keeps the cold chain controlled so that orders arrive in good condition, always between 2ºC and 6ºC.

If there is no one at home to receive the order, the package can be delivered to the building's concierge.

Once the product has been added to the Shopping Cart, you will see the exact shipping cost.
Frequently asked question
Use this to answer some common questions you hear from your customers. You could discuss product details, size fit, shipping policies, or anything you think would help merchants make an informed decision about your products. This section will appear across all products.